2016 End of Year Progress Report
The following is an update summary of the "Additional Harbor Access" (aka Bird Cut), the project now managed by the City of Punta Gorda. This information was submitted by Hans Wilson, P.A. to Boaters Alliance and approved for public announcement by Gary Disher, Punta Gorda Public Works Analyst.
8/26/16 – Environmental Resource Permit (ERP) application submitted to the Dept. of Environmental Protection (DEP) and Army Corps of Engineers (COE)
8/30/16 – DEP assigns a project manager
9/22/16 – Received favorable review by DEP hydrographic engineer in Tallahassee regarding the hydrographic (flushing) report by HWA
9/28/16 – DEP issued a Request for Additional Information (RAI)
10/3/16 – Provided information to Heather Ecinosa Heather, of Nabors Giblin & Nickerson, the firm contracted by the City to develop the assessment methodology regarding the development of an assessment methodology
10/24/16 – Initiated contact with DEP Parks Service to coordinate on restoration proposed for the state owned lands portion of the project
11/1/16 – COE assigns project manager
11/2/16 – Submitted a ten page response to DEP. RAI to address issues related to channel design and resource impacts; additional drawings to detail access limitation to Smugglers Cut; details regarding the design and purpose of the settling basin; turbidity monitoring; application revisions and details; presentation on basis for use of sovereign state lands qualifying for Consent to Use; and other details
11/14/16 – Set up and attended meeting with the COE staff to review the application package and address any issues related to the submittal
11/22/16 – Prepared a draft public notice on behalf of the COE staff to expedite the review. Located National Marine Fisheries Services (NMFS) biological opinion related to Charlotte County dredging of Alligator Creek as part of submittal
Currently awaiting responses from the DEP regarding our public interest submittal and items addressed in the RAI. The COE project manager has five projects ahead of ours before they approve the public notice and get it out on the street for review.
Respectfully Submitted,
Hans Wilson, P.E.
1938 Hill Ave., Ft. Myers, FL 33901
239.334.6870
hans@hanswilson.com
Marine Engineers &Environmental Consultants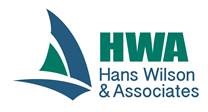 Knowledge, Quality, Service.